Fare discount of 50% on cash rate for every journey on Rapid KL Bus, BRT, LRT, Monorail and MRT services
Concession Card is a stored value personalised smartcard for dedicated group to use for travel on RapidKL buses, LRT, Monorail, MRT and MRT feeder buses.
Concession Card holders enjoy 50% off the price of adult fare when they ride the LRT, Monorail, BRT, MRT, RapidKL and MRT feeder buses.
You can now apply MyRapid Concession Cards online from the application form at the bottom of this page.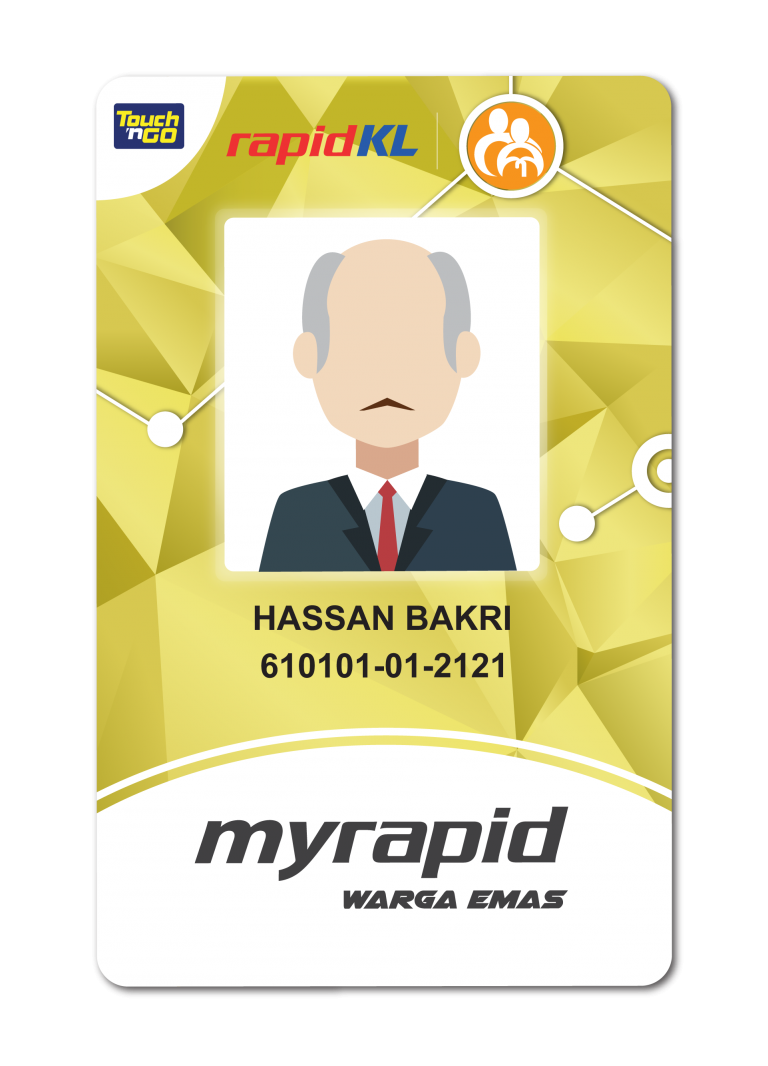 Entitlement: Malaysian Senior Citizens aged 60 years old and above.
Fare Discount of 50% on Cash Rate for every journey on RapidKL Bus, BRT, LRT, Monorail, MRT services.
Passengers will not enjoy fare discount 50% at all Park & Ride facilities.
Applicants are required to bring the original and a duplicate copy of the MyKad for verification purposes.
Application can be made at our Concession Registration Counter located at Pasar Seni Bus Hub, Conlay MRT Station or via online.
Operating hours – Monday to Friday : (9 am to 4 pm)
Notes: Concession card registration closed at 4 pm daily
This card is issued with RM 5.00 card price and initial stored value of RM 10.00, totalling RM 15.00 which is required upon application and to be borne by the customer. For subsequent reload, passengers may do so at all RapidKL BRT, LRT, Monorail, MRT station, TNG SPOT and any TNG Reload Point.
Passengers are required to maintain a minimum purse value of RM5 to use RapidKL services.
Find the MyRapid Concession Card application form and T&C below :
For applicants that have already applied before: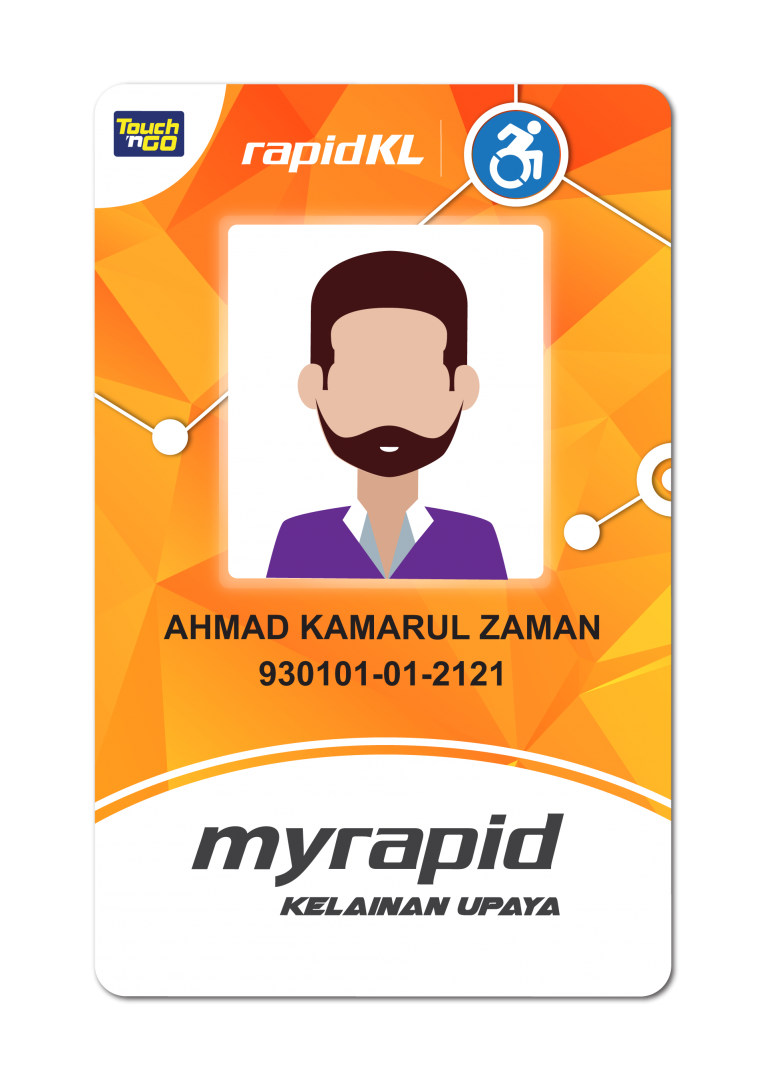 Entitlement: Malaysian with disability registered with JKM under the following categories:

Sight
Hearing
Psychiatric
Speech
Learning Disability
Other Physical Disabilities

Fare Discount of 50% on Cash Rate for every journey on RapidKL Bus, BRT, LRT, Monorail, MRT services.
Passengers will not enjoy fare discount 50% at all Park & Ride facilities.
Applicants are required to bring the original MyKad and Original JKM (OKU) Card (For OKU only) for verification purposes
Application can be made at our Concession Registration Counter located at Pasar Seni Bus Hub, Conlay MRT Station or via online.
Operating hours – Monday to Friday. (9 am to 4 pm)
Notes: Concession card registration closed at 4 pm daily
This card is issued with RM 5.00 card price and initial stored value of RM 10.00, totalling RM 15.00 which is required upon application and to be borne by the customer. For subsequent reload, passengers may do so at all RapidKL BRT, LRT, Monorail, MRT station, TNG SPOT and any TNG Reload Point.
Passengers are required to maintain a minimum purse value of RM5 to use RapidKL services.
Prasarana / RapidKL reserve the right to update and amend these terms and condition at any time without prior notice.
Prasarana / RapidKL will notify you any changes via announcement on our website or other appropriate means.
Find the MyRapid Concession Card application form and T&C below :
For applicants that have already applied before:
Students in all category (Primary, Secondary, College and University).
Fare Discount of 50% on Cash Rate for every journey on RapidKL Bus, BRT, LRT, Monorail, MRT services.
Passengers will not enjoy fare discount 50% at all Park & Ride facilities.
Primary & Secondary students will enjoy the discounted fare up till age of 17 years old based on year of birth.
College and University students will enjoy the same discounted fare and subject to yearly renewal.
For Primary & Secondary students, please refer below on documents needed:

Original MyKad for verification purposes

For college and university students, please refer below criteria and attached supporting documents needed for registration:

Passport photo
Original MyKad/Passport
Original Student card
Original student confirmation letter (dated not more than 3 months) are required upon registration and renewal. OFFER LETTER IS NOT ACCEPTED.
Study duration of above 6 months from the date of application and must be stated clearly in the confirmation lette

Application must be made via online.
This card is issued with RM 5.00 card price and intial stored value of RM 10.00, totalling RM 15.00 which is required upon application and to be borne by the customer. For subsequent reload, passengers may do so at all RapidKL BRT, LRT, Monorail, MRT station, TNG SPOT and any TNG Reload Point.
Passengers are required to maintain a minimum purse value of RM5 to use RapidKL services.
Prasarana / RapidKL reserve the right to update and amend these terms and condition at anytime without prior notice.
Prasarana / RapidKL will notify you any changes via announcement on our website or other appropriate means.
Find the MyRapid Concession Card application form and T&C below :
For applicants that have already applied before: